Fabulous Floors Atlanta
Fabulous Floors Atlanta has rapidly grown into a respected pillar of the hardwood flooring community in the Atlanta area. We have assembled a team with over 30 years of combined experience in refinishing, resurfacing and the renewal of residential and commercial hardwood flooring. Continued education in methods, products, equipment and services is paramount to providing our customers with the best quality possible and is part of our daily life.
Fabulous Floors Atlanta has a dedication to outstanding customer service, an unmatched knowledge of flooring craftsmanship and our strict work ethic is reflected in our work. Pricing, labor and job requirements are always made available to our customers before any work begins. We run a trustworthy company that is backed by the support of countless satisfied customers throughout Atlanta and the surrounding communities.
Why Use Fabulous Floors' Wood Floor Resurfacing System?
Saves money. It costs much less than traditional refinishing.

Instantly adds value to your home.

Time saving. Most of our treatments take only a few hours.

Final finish is long-lasting polyurethane.

Choose from gloss, semi-gloss or satin finish.

Easier cleaning. Properly sealed hardwood floors withstand traffic.

There are no airborne dust particles or mess.

Nicks and scratches are gently buffed without sanding away wood.

We do the work for you. Save yourself the time and labor.

You'll never have to live with worn out hardwood floors again!
99¢ Dustless Resurfacing
Learn more about our trademark 99¢ per square foot dust-free hardwood floor resurfacing process.​
Bona: Dustless Refinishing
Traditional hardwood floor sanding is a dusty process – a dust-storm in your house, a mess to clean-up and a potential health risk to you. We use Bona's dust-free sanding equipment, which means those days are gone!
Greenguard Certified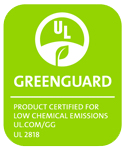 The GREENGUARD Certification Program gives assurance that our services meet strict standards, which contribute to the creation of healthier homes.